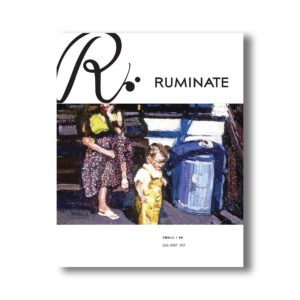 The new issue of Ruminate is here and so is my Editors Ruminate blog. Get a sneak peek at these beautiful poems and order a copy today.
O small ones,
To be born!
—"Eclogue," George Oppen
Small often means vulnerable. As when one person uses power to make another feel small. As when an individual seems insignificant within a sprawling system. Or when a hurricane decimates a city and we witness the extreme precarity of life. But smallness can also be a source of strength. It's no surprise that this theme is often repeated in children's stories: The Little Engine That Could, Jack and the Beanstalk, Thumbelina. Smallness can be the glitch in the system, the wrench in the machine. It can also be a line of poetry that reconfigures how we see the world. An image that unlocks something new. The poems in this issue explore the many implications and iterations of small, from subtle gestures of kindness to passing moments that accumulate to become something bigger than even the poem can hold.